---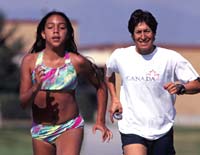 Great Basin Coaching has teamed with BAM in order to offer a more comprehensive triathlon opportunity for youth and junior athletes!

This program is geared towards youth and junior athletes. Focus is on healthy, long term athlete development. Training sessions and skill development will follow appropriate age-graded guidelines for fitness and fun in a safe environment.

ATHLETES MUST HAVE SWIM SUIT, GOGGLES, BICYCLE, HELMET AND RUNNING SHOES. A road bike is best, but not absolutely necessary. However, if the athlete is using a mountain bike, it should have street tires and older athletes will fare better on a road bike as it is often difficult to keep up on a mountain bike as athletes get older and stronger.

Who: Youth 8 and older
What: Swim, bike, run, transition, nutrition/hydration coaching, principals of training
Where: Meeting locations (Murray Park, Sugarhouse Park, Sandy BAM headquarters)
When: See BAM Junior schedule

Team Fees: Summer, Monthly and Weekly options

See you at the Murray Youth and Family Triathlon Sept 3

---
Call 801-566-9727 or for more information.