---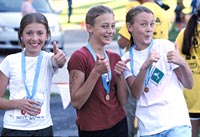 Murray Youth and Family Triathlon September 3
Free Family Prep Clinic Aug. 28

The Murray Youth and Family Triathlon is a race designed especially for young people, families, novice adults and seniors looking to participate in an introductory-level triathlon. Kids, teens, mom, dad, gram, gramps, and friends all have an opportunity to experience the fun of triathlon with this event.
Call 801 566-9727 or 801 264-2614 for information.
Download:
Waiver,
Application,
Information

---



Have a successful race for you or your child.

1: Read this entire page.

2: Register online early.

3: Download the 5 to 8 race map or 9 and older race map and inspect the course for yourself or child before race day.

4. Attend the pre-race meeting.

5. Arrive early.
Everyone gets a shirt, but those registering after Aug 24 may have to pick up a shirt 1-2 weeks after race day. Shirts will not be mailed. We have ordered extra shirts, but we are a small operation and cannot afford to order lots of extras for possible registrants. We'll reorder if necessary.

You can register online until Aug. 29 at 11:59 pm MDT – This is your best option, no late fees! You can register in-person through Murray Parks and Recreation until Sept. 1. $10 late fee after Aug. 24.

Who: Children 5-10, children 11+, adults, seniors, everyone
What: Swim, bike, run
When: September 3
Where: Murray City Park
How: Register online by Aug. 29
Cost: $25 ages 15 and under; $30 ages 11 and over, $35 F1

Register online at www.mcreg.com

****** NO RACE DAY REGISTRATION *****

Course Information

Racers will race their age on race day. Questions, special requests on distances, please call or e-mail Jo.

New bike course inside park for youngest racers. Check back or call for more information.
5-6 years: 25 yard swim, .6 mile bike, .25 mile run
7-8 years: 50 yard swim, 1.2 mile bike, .5 mile run
9-10 years: 100 yard swim, 2.65 mile bike, .6 mile run
11+ years: 150 yard swim, 5.3 mile bike, 1.2 mile run (adults, seniors, race older children's distances)
NEW F1 Format: Do the SuperSprint 2xs!

Age-groups in 2-3 year increments through 18, 10-year increments after 18.
Medals for all finishers
Pool swim starts are staggered approximately every 5 seconds
Timing by Runners Card
Participants receive splits and overall time following race

Helmets required! No racing without a helmet.
Race begins promptly at 7:45 AM (Allow yourself ample transition setup time.)
Race day check-in begins at 6:30 AM
Register Online at www.mcreg.com
Packet Pick up

Sunday, Sept. 2 from 6:00-7:00 PM (pre-race meeting at 7:10 PM) and Monday, September 3 from 6:30-7:30 AM at Murray Park in transition area.
NO ONE (not even parents) ALLOWED IN TRANSITION DURING RACE EXCEPT ATHLETES AND RACE PERSONNEL.
Awards for top three in each age group; awards begin approximately one-half hour after last finisher. If you do not stay, winners can pick up awards at the Murray City Recreation Office the following week. Awards will not be mailed.

Free Prep Clinic

!! FREE FAMILY PREP CLINIC AUGUST 28 !!
Must register for race online at www.mcreg.com by August 27 if you wish to attend free clinic. Email or call Jo so your name is in the clinic: 801-566-9727 or jo@agegroupsports.com. Meet in transition area.
Review course maps
Review swim course
Bike check (for those who want us to check out equipment)
How to transition properly (we'll practice)
What to eat the AM of the race?
Rules
Question and answer time – about 20 min.
Course Maps
(Download 9 and older course map pdf Here.)
(Download 5 to 8 course map pdf Here.)

How to prepare for a Triathlon
Race prep information
Rules questions: visit USA Triathlon Rules

Participant Information

(download as pdf)

Murray Youth and Family Triathlon

Race Check-in
* Early Check-in: Sunday from 6-7 PM; short pre-race meeting at 7:10 PM - meet in the transition area in front of the Park Center.
* Race Morning Check-in: Monday from 6:30-7:45 AM; short pre-race meeting prior to each wave start.

Parking
* You can park in the big parking lot just southeast of the Park Center, but don't expect to leave until all athletes are off the bike
* Park at the Ice Center
* Park in any lot in Murray Park.

Restrooms
* The outdoor pool
* The pavilion near the finish line
* The building adjacent to the playground area
* The Park Center
* The small restroom near Constitution Circle

Relay Teams
* Bikers should be waiting for their swimmers in the transition area next to the bike; the swimmer will tag them and then they can leave
* Runners should be waiting in the transition area next to the spot where the biker will rack the bike after the ride; the runner may leave when the bike is racked
* Runners must wear the bib number; swimmers and bikers will simply have a body marking

Additional Information

Athlete/Spectator Information
* Please - only athletes in the transition area during the race; we'll have at least 4-5 neutral helpers in the transition to help tie shoes or buckle helmets etc. NO ONE (not even parents) ALLOWED IN TRANSITION DURING RACE EXCEPT ATHLETES AND RACE PERSONNEL. Neutral race volunteers will be stationed in the transition to assist everyone equally. Additional people in the transition add to confusion and increase safety concerns.
New Rule Exceptions for 5-8 year olds only:
* Each child can have one helper in the transition to make sure that they can get helmets buckled, shoes tied properly etc. Do not do everything for your child. Let them do their best but help avoid major frustration or safety issues. This is not a world championship. It is not your race! It is your child's race. Let them do it, but let's make sure the experience is a good one.
* If you have two 5-8 year old kids in the race, help us avoid too many people in the transition. You still only need one helper. Put their bikes on the same rack or close to each other. If they are in different age groups, you still only need one helper as the younger child will be on the run when the older one needs help.
* Swim anxiety? We will allow swim aides for 5-8 year olds but only for this age range. 9+ = no swim aides.
For Everyone:
* All athletes must be out of the transition by 7:45 a.m.
* All children 9-10 and under will wear a wrist band indicating to volunteers that they will only go one lap on the super sprint bike and run course
* Strongly suggest that you put elastic laces in the children's shoes - just go to REI and buy some elastic cord and a cord lock OR I will have some laces for $2 on Sunday PM and possibly on Monday AM if there are any left
* Strongly suggest that you at least drive the bike course with your children
* There is info on prepping for this race on this website; take a look.
* Keep gear to a minimum; you don't need a lot of "stuff" in the transition area; we'll try to have a place for you to store backpacks etc. until after the race, but we can't promise anything - we're working on it!
* We'll have people who can help with body marking, but you can body mark your children yourself as well; numbers must go on each arm (vertically) and on the calf of each leg - no ages please as it confuses the timers! Look at our body marking poster for help! Since we stagger this race in 5-10 sec. intervals on the swim, it's hard to tell if people are ahead of you anyway.

Rules

Basic Rules ( a couple very important ones! )
* NO ONE (not even parents) ARE ALLOWED IN TRANSITION OR ON THE BIKE COURSE DURING THE RACE EXCEPT ATHLETES AND NEUTRAL VOLUNTEERS. We pride ourselves in the fact that this race is organized so that children who are capable of going the distance are able to easily follow the course. Unfortunately, not everyone follows the rules that are in place for the safety and fairness of all. Parents who insist on being in the transition or on the course will be asked to leave immediately by the race official and further disregard of this safety and sportsmanship rule may result in disqualification. It is better for your child's overall development, self-esteem and safety if you simply allow him or her to participate at their own pace and as an individual athlete. Excessive cyclists and runners on the road contribute to safety issues that are in direct violation of our insurance. You are not helping your child by participating with him or her and you could be endangering the well being of others.
* No athletes in the pool please - stay on the deck until you're ready to swim; athletes, especially children, who are in the pool prior to the race risk being disqualified, i.e. asked to not participate; this is a safety issue - please explain this to your children
* Helmets must be worn at all times and the buckle must be fastened before you unrack your bike; NO ONE WILL BE ALLOWED TO RACE WITHOUT A HELMET - SORRY!
* You may not ride in the transition area; you must exit by pushing your bike to the "bike out" exit and then mount your bike on the road at the "mount line"
* You must stop at the "dismount line" at the end of the bike and run your bike into the transition at the "bike-in" sign (although we'll have help, we suggest you get to know the lay of the transition so that you know where to go when exiting and entering)
* Please rack your bike in the same spot when returning from the bike; do not throw helmets etc. in the transition - place all your belongings in the same spot they were in before the swim
* Your bike should face in the same direction as it did before the swim when you rack it after the bike ride - we'll have people who can help children rack their bikes, but they are responsible for returning their bike to their transition spot after the ride - they can't just throw it down and run!

See you all on Monday AM, bright and early! Don't be late - we'll make every effort to start at 8 AM sharp!

PARENTS! If anyone has a spare grandparent, aunt or cousin (or yourself) who wouldn't mind helping out, we can always use extra help in the transition or on the run course. If you or any family members can help, please call me at 801 557-6844 - that's my cell number. Thanks.

Call 801-557-6844 or for more information.