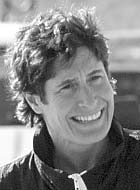 About the Coach

Jo Garuccio

M.S. Health Education
B.S. Physical Education



Group Training
Have a small group of friends who wish to train for a race? Form a group with 2-5 other adults with similar abilities and pick a time to train that works for you. Five-week sessions tailored to fit your needs. E-mail or call for pricing.

Coach: Jo Garuccio, MS


USAT Certified Expert Level Coach.


Six-time ITU World Age-Group Champion


USAC Club Coach


USAT Youth and Junior Certified Coach

Volunteer
Are you an active triathlete with a little extra time to give back to the sport? E-mail or call for volunteer options. Races, camps and clinics can always use the help!

Experienced and Certified
Great Basin Coaching Programs are conducted by USA Triathlon certified coaches. USAT is the organization responsible for choosing the USA Olympic Triathlon Team and the governing body for amateur and pro triathlon in the US.

Call 801-566-9727 or for more information.