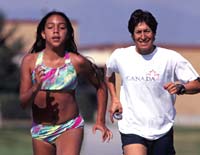 Why limit yourself to just one sport when you can have fun at three? Great Basin youth triathlon camps make summer more fun with one of the country's fastest growing sports, and they encourage healthy lifestyles along the way.

Participants receive instruction in swimming, cycling, running, nutrition, hydration and how to transition between events. Proper technique, safety, pacing and sportsmanship are emphasized. Repeat campers and older youth work with more advanced skills. Camp ends with a short "fun race" that allows kids to test the waters in a short practice race. (Camp is great way to prepare to compete in the Great Basin Youth and Family Triathlon ).


When: Check back next season!
Who: Kids ages 7-17 (7-10 year olds must be able to swim 25 yards of a pool; 11-17 year olds must be able to swim 50 yards)

Youth Triathlon Camp Schedule



Check back soon for 2006 schedule.

Sanctioned and Experienced
Great Basin Youth Camps are sanctioned by USA Triathlon, the organization responsible for choosing the USA Olympic Triathlon Team and the governing body for amateur and pro triathlon in the US.

Call 801-566-9727 or for more information.